Health
Out of the Darkness Walk to address mental health, suicide prevention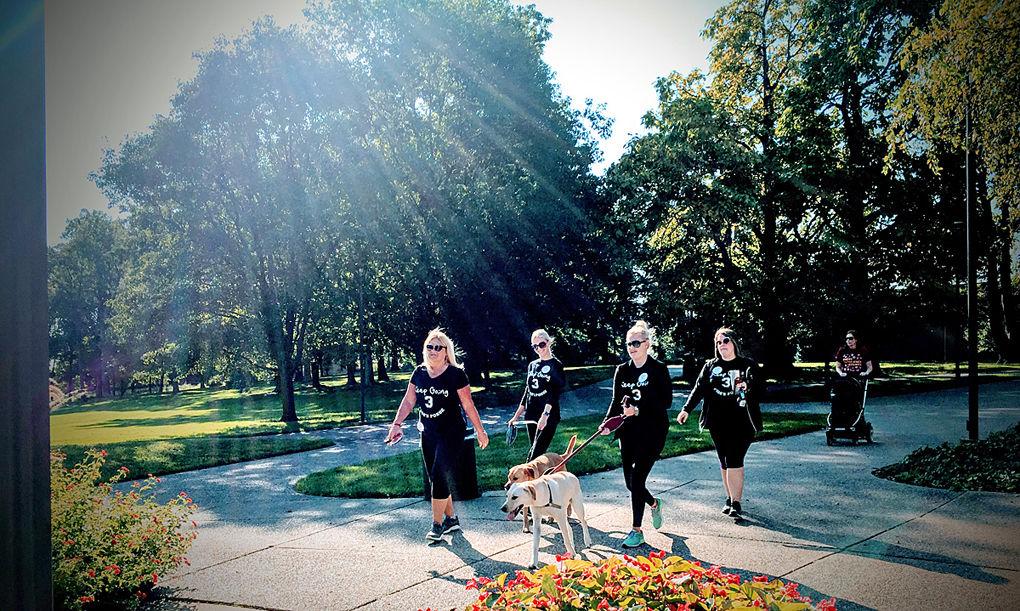 #inform-video-player-1 .inform-embed { margin-top: 10px; margin-bottom: 20px; }
#inform-video-player-2 .inform-embed { margin-top: 10px; margin-bottom: 20px; }
NEW ALBANY — A week of programming at Indiana University Southeast will include important conversations about mental health and suicide prevention.
The IUS Counseling and Psychological Services (CAPS) program is presenting a variety of resources and events for its 2021 Mental Health and Wellness Series, including the Floyd & Clark Counties Out of the Darkness Walk.
Michael Day, CAPS director at IUS, said the annual Out of the Darkness Walk started at IUS about 10 years ago, and it has continued to grow over the past decade. Saturday's walk takes place on campus, but the broader community is invited to attend.
The goal is to change narrative about mental health on campus, he said.
"Suicide is the second-leading cause of death for 18- to 25-year-olds, and that's our demographic here," Day said. "We want to get the word out, and hopefully by shining the light on the issue, people will have hope and ask questions."
The pledge walk will raise money for the Kentucky Chapter of the American Foundation for Suicide Prevention. The two-mile walk around IUS is family-friendly and pet-friendly, and it will start 10 a.m. at McCullough Plaza in the center of campus.
A few years ago, IUS added a whole week of programming to fight stigmas associated with mental health. On Monday, the campus presented free, confidential mental health screenings for members of the campus community, which will continue Thursday.
Monday's programming also included Question, Persuade and Refer (QPR) training, which is a three-step suicide prevention method. On Tuesday, the campus is offering a resource fair at McCullough Plaza featuring community agencies such as LifeSpring that provide mental health services.
On Thursday, the campus will offer a screening of the documentary "Connecting the Dots," which focuses on youth mental health. A discussion will follow the screening, including a conversation over Zoom with the director of the film.
Day said the pandemic has exacerbated mental health issues for many, and students often struggle to keep up with the demands in their day-to-day lives, including balancing work and school. Of those who seek CAPS services, about 35% say they are overwhelmed and stressed, he said.
Fewer people turned to CAPS for help in the past school year as sessions took place online, but those who received services often attended a higher number of sessions, according to Day.
Although IUS classes and programs were largely virtual in the past school year, students are back in-person this fall. So far, CAPS has seen a a 3% increase in visits compared to fall of 2019, Day said.
In addition to helping friends and family who have been affected by suicide, Saturday's walk is meant to help those who have faced suicidal thoughts and mental health concerns, Day said. Attendees can wear different colors of "honor beads," which represent a variety of meanings, whether it is a tribute to a loved one lost to suicide or their own mental health struggles.
"Money is important, but getting the word out is even more important," Day said. "Whether we raise money or not, we want to support those who lost people to suicide or those who are thinking about suicide. Being part of the walk can be a very healing experience."
Of donations collected at Saturday's walk, 80% goes to programming and services at the local American Foundation for Suicide Prevention chapter, and 20% goes to the organization's administrative costs.
Last year, the Mental Health and Wellness Series brought in a total of $8,000 in donations even as it remained virtual. This year, the fundraising goal is $7,000. Day estimates that attendance at the Out of the Darkness walk increases about 10% to 15% each year.
Although it addresses serious topics of suicide and mental health, the walk will be a positive, inspiring event, Day said.
"It's a very joyful celebration of life remembering those who we've lost, and it's inspiring those who may be thinking about suicide that life is worth living," he said. "It's an upbeat, enjoyable day, not one that is sad and somber."
For those who are considering suicide, it could be helpful to see so many people who care about them and their well-being, he said.
"Suicide is one of the most preventable causes of death, and we simply want to talk about it and give people hope," Day said. "It's one of those things people are still embarrassed or frightened to talk about — we talk about cancer or a broken leg, but suicide for some reason we are still frightened to talk about."
"We want to offer hope and healing for those who lost someone to suicide and those who have been considering suicide themselves," he said.
#inform-video-player-3 .inform-embed { margin-top: 10px; margin-bottom: 20px; }