Arts
Four Point Puzzles Partners With Artists on New Bold + Colorful Releases
A Design Milk community favorite, Four Point Puzzles, the Canadian jigsaw puzzle company with a specialty in contemporary art and design, is back with a new collaboration that's sure to challenge and delight.
The brand's latest release stars two original works by contemporary artists – Designing Destiny by Ryan McGinness and Tangled by Vratislav Pecka. In keeping with Four Point Puzzle tradition, these graphic modern puzzles are endlessly entertaining and totally frame worthy. Read on to learn more about the launch and find Four Point Puzzles in the Design Milk Shop (pro tip: they make a great holiday gift, too!).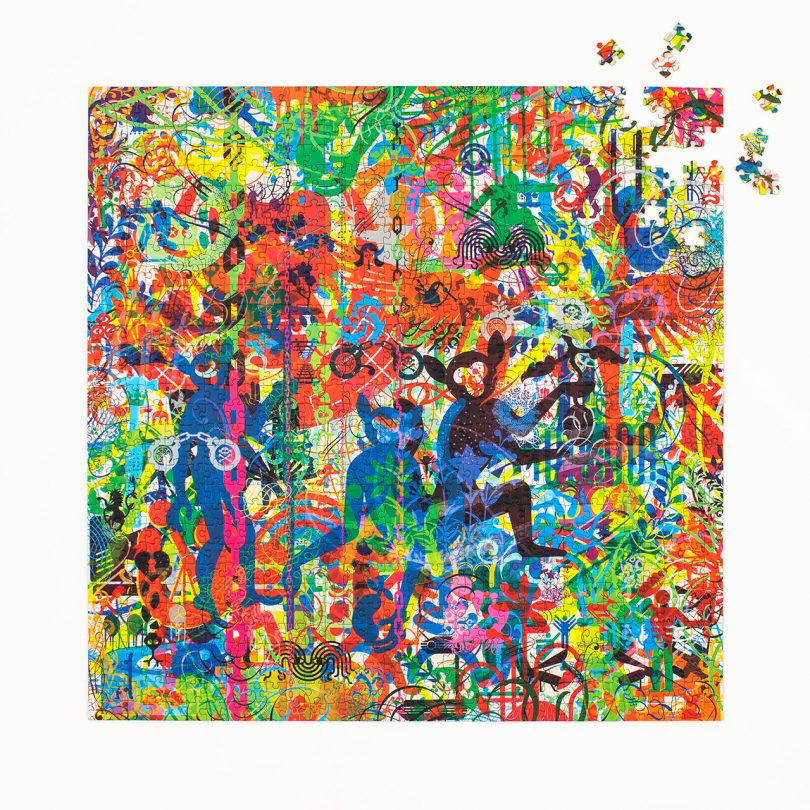 Designing Destiny by Ryan McGinness
American artist Ryan McGinness is known for his eye-catching drawings and Warhol-inspired use of iconography – public logos, signage and contemporary symbols, as a means of personal expression. He's even credited with elevating the status of icons to fine art through his paintings, sculptures, installations and books!
The bold layered graphics on Designing Destiny illustrate what McGinness dubs "Mindscapes," reflecting how our minds run on RAM (Random Access Memories) through the collaging of hundreds of McGinness' graphic drawings to create a psychedelic colorful dream scape that's as fun to build as it is to marvel at once complete. At 1,000 pieces and a 4 out of 5 on the difficulty scale, the puzzle's abstract graphic collages are best suited to mildly seasoned puzzle-builders – although we'd argue that anyone with the time, commitment and a "can do" attitude can put this beauty together. Plus, you can relish in your accomplishment every day by framing the puzzle on your wall.
$33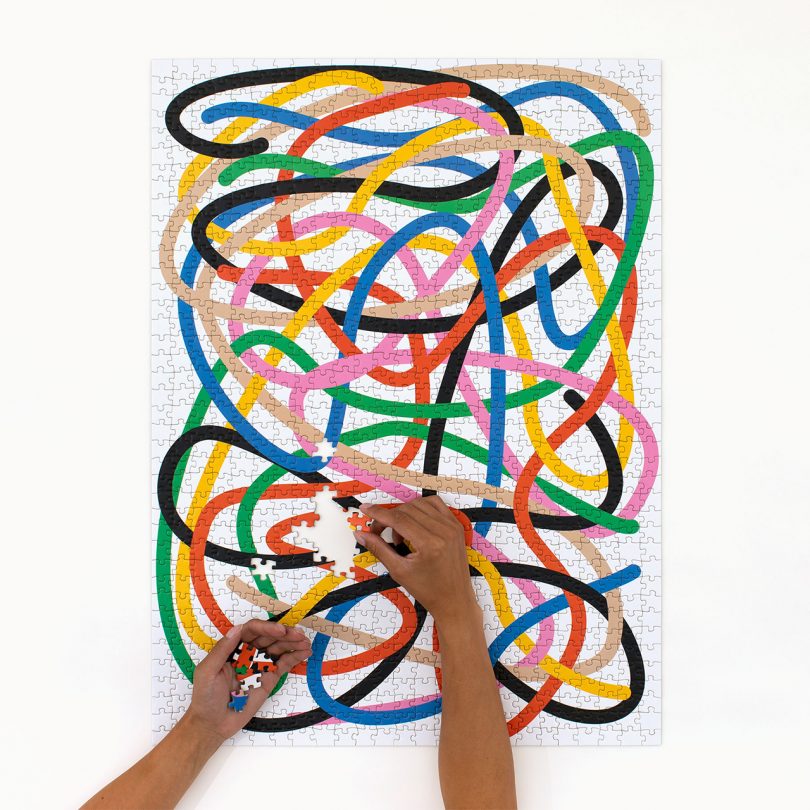 Tangled by Vratislav Pecka
Vratislav Pecka, the Czech designer, crypto artist and artist behind acclaimed art project PosterLad, pulls inspiration from the Bauhaus aesthetic and '90s nostalgia. His award-winning PosterLad project reclaims a medium traditionally used for advertising to create captivating retro, modern artworks that have taken the social media and crypto art worlds by storm.
In Tangled, Pecka uses bold geometric shapes, bright vivid colors and thick interwoven organic lines that invite the viewer to follow each vibrant strand and find its beginning. The bold graphic elements of his Tangled illustration make for a fun-filled puzzle experience as users literally get to experience the journey of piecing each sweeping line together firsthand. Four Point Puzzles marks this one a 3.5/5 in difficulty. Sifting through the 1,000 pieces is a mild but worthwhile challenge, but the simplicity of the bold intersecting lines gives users tons of opportunity for satisfying puzzle piece streaks (you know, when you find one matching piece that leads to 10 other matching pieces, and you feel invincible!). The only thing better than that streak feeling is hanging this masterpiece on your wall once complete.
$33
>>> Find more from Four Point Puzzles in the Design Milk Shop here! <<<