Music
Music, Music, Music! All Together Now! featured at Barn Theater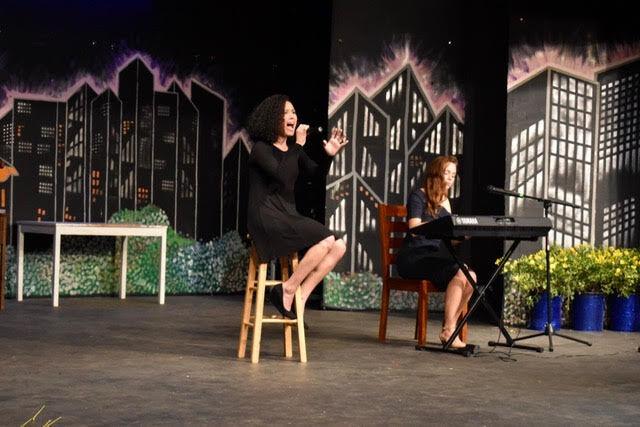 The Barn Theater was proud to participate in a global event sponsored by Music Theater International (MCI) celebrating the return of local community theaters worldwide on the weekend of Nov. 12 – 15.
The musical review All Together Now, opened on Friday to an audience of more than 55 people.
The musical review had a large cast, with different vocalists singing on different nights during the weekend.
The review featured 18 songs from musical theater performed by artists and actors from all over the Central Valley and they were spectacular, including actors from Porterville, and students from​ the Burton Middle School Theater Arts Department.
It was a thrill to see the audience enjoying live theater again, and be involved with the Porterville Barn Theater family. People were glad to be out, and enjoying themselves.
Barn Theater veterans Daniella Lovato, Wendy Plaisted, and Charles Hickinbotham directed and produced the show and performed in it.
The opening performance by Burton Middle School Theater Arts Department was "Be My Guest" from Disney's Beauty and the Beast and it was lively and fun.
Kristina and Kiersten Hall, and Daniella Ramos sang a lovely rendition of "Matchmaker" from Fiddler on the Roof.
Leslie Pelon sang "Back to Before" from the show Ragtime, followed by the song "Gimme, Gimme" from Thoroughly Modern Millie, sung by Kristina Hall and Alyssa Levario.
Shane Rangel sang "Empty chairs, and Empty Tables" from Les Miserables, which was dramatic.
Four students from Burton Middle School spoke about why they felt theater was important, saying being in the theater people didn't judge you, and being in the theater you could experience new things. It was also a way to grow, and one student said it helped her feel free.
The theater also helped another student learn to talk about things, and express herself at home.
Grace Loeffler and Levario next sang "Tomorrow" from the hit Broadway musical Annie.
Rebecca Coffey-Godfrey sang "The Human Heart" from Once on this Island, followed by a duet sung by Kristin Redford and Lovato singing "She Used to be Mine."
A few adults spoke about why the Barn Theater was important to them, saying the theater allows them to express themselves in a myriad of ways. The creativity of people thinking outside the box. Working on sets, props, scenery and more.
They spoke about how theater brings people together, helps them grow together, and it's a community within the community they can fall back upon.
BMS Theater Department students together with Loeffler performed "Seize the Day" from the musical Newsies, followed by Jennifer Masters singing "Children Will Listen," from the musical play Into the Woods, written by Stephen Sondheim.
Plaisted and Hickinbotham sang a charming duet "Stop The World" from Come Away.
Redford sang a dramatic and heartfelt rendition of "Let It Go" from Disney's musical Frozen which was wildly popular with the audience.
A humorous and lighthearted musical number "Sit Down You're Rocking the Boat," sung by Rangel, Hickinbotham, and Dominic Dee followed to great applause.
Hickinbotham spoke at length and said, "A big enormous thank you to our cast. Community theater is our home away from home, and the Barn Theater has had 73 consecutive years of operation." He repeated that MTI was giving them free music for the weekend, in order to help revive local theaters across the country
The full cast sang "Seasons of Love" from the musical Rent, followed by a upbeat "You Can't Stop the Beat."
Melanie Tyler said, "At the Barn theater they do a good job every time. And I like seeing new faces at the theater."
"It was exhilarating being on stage," said Rangel, "Come to your local community theater and support them."