Arts
Artist Josef Kote to Appear at Ocean Galleries Friday and Saturday
NEWS | FEATURES | PREVIEWS | EVENTS
originally published: 08/02/2022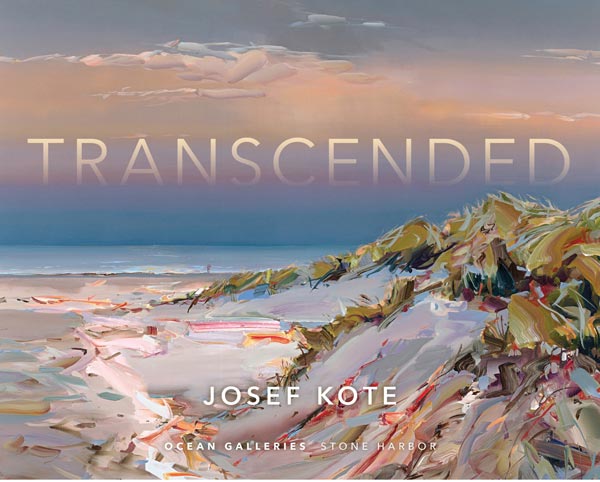 (STONE HARBOR, NJ) — Josef Kote: The Collected Works is a magnificent Collection of artworks by new master Josef Kote. These works will be on exhibition and available for acquisition at Ocean Galleries in Stone Harbor. Two special in-person Meet-the-Artist appearances are scheduled: Friday, August 5th from 6:00pm-9:00pm and Saturday, August 6th from 6:00pm-9:00pm. This is a once-in-a-lifetime opportunity to meet Josef Kote and experience his art: described as "symphonies of light and color".  
Artwork is available for acquisition and all appearances are complimentary and open to the public. For more details about the exhibit and art, please visit www.oceangalleries.com or call 609.368.7777 to RSVP. RSVPs are strongly suggested.
Josef's atmospheric renderings of New Jersey's coastline bring to mind the legacy of seminal landscape artists, such as J.M.W. Turner and later Winslow Homer that captured the experience of the Sublime in nature. However, in Kote's case, the turbulence of the sea is infused with an ethereal light that conveys a feeling of calmness and triggers our senses. We can almost hear the waves as they crash on the shore, feel the cold water at the soles of our feet, or remember the last time we saw the sunset at the beach.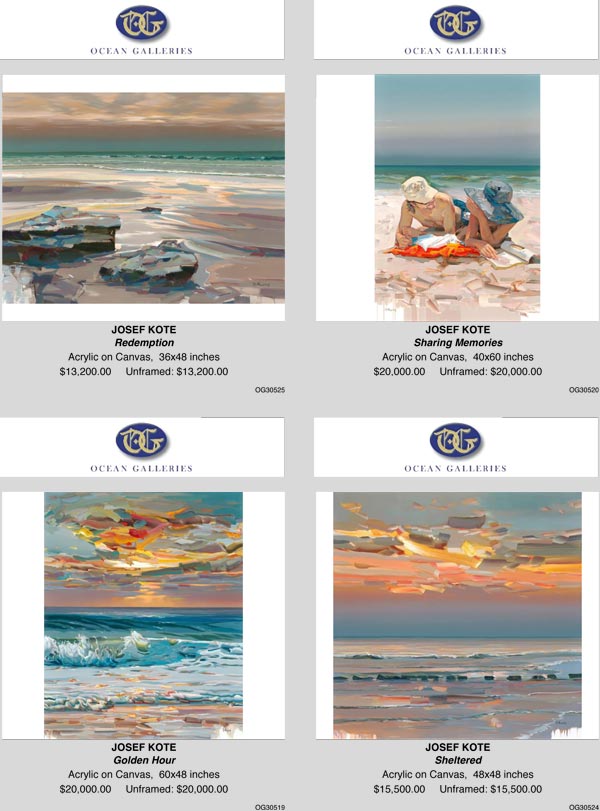 In Kote's sixth solo show with Ocean Galleries, some works stand out as the central characters. Such is the case of paintings like Light on Light, Fluidity and Rising Tide, which portray the immensity of the ocean, with the seaside being one of the artist's go-to subjects over the years. 
From Johannes Vermeer to Claude Monet and James Turrell, for centuries artists have been obsessed with exploring the creative and transformational potential of light. Such is the case of Connecticut-based artist Josef Kote, who for decades has been capturing the seemingly endless variations of light as it reflects upon urban settings, the seaside, or his portraits' subjects. While connected to the Impressionist tradition, the eighteen large-scale acrylic paintings featured
in the artist's new exhibition at Ocean Galleries, in New Jersey, further reflect the artist's ongoing quest for redefining traditional painting genres and styles through a distinctive visual vocabulary populated by alternating realist and expressionist gestures. 
Advertise with New Jersey Stage for $50-$100 per month, click here for info
---
More so, through his latest exhibition, titled Transcended, Kote tells us an open-ended story about the people and places that are significant to him. This multifaceted story is outlined with expressive textures, traces, and colors brought to life thanks to the artist's mastery of palette knife and brush techniques which he has perfected over the years. At the same time, the title of this exhibition reflects Kote's conceptual approach to art-making which seamlessly blends two historically opposing styles of painting, Abstract Expressionism and Realism.
"They dance instead of fight," the artist says. In this way, the artist transcends style boundaries and reinvents them through the universal language of light, the latter of which also bears a contemplative or, one may say spiritual nature. 
Ocean Galleries is located at 9618 3rd Avenue in Stone Harbor, New Jersey.
Advertise with New Jersey Stage for $50-$100 per month, click here for info
---