Arts
Guest Artists Duo Cintemani to Perform Sept. 30 at UW | News
<!—->
September 23, 2022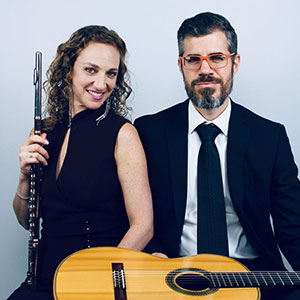 Critically acclaimed flute-guitar group Duo Cintemani, featuring flutist Rachel Taratoot Ciraldo and guitarist Nicholas Ciraldo, will perform at 7:30 p.m. Friday, Sept. 30, at the University of Wyoming. (Duo Cintemani Photo)
Critically acclaimed flute-guitar group Duo Cintemani, featuring guitarist Nicholas Ciraldo and flutist Rachel Taratoot Ciraldo, will perform at 7:30 p.m. Friday, Sept. 30, at the University of Wyoming.
The duo's performance — free and open to the public — will be in the Buchanan Center for the Performing Arts recital hall. The performance is the culmination of Duo Cintemani's multiday residency in the UW Department of Music.
Based in Hattiesburg, Miss., Duo Cintemani has performed together professionally for more than 20 years. Their reputation for innovative and expressive programming has brought them invitations to perform nationally and internationally. Their wide range of stylistic and sensitive interpretation leads to colorful and engaging programs.
Using their educational experiences, the duo also have created and participated in outreach programming and participated in residencies with the St. Louis Symphony and the Austin Classical Guitar Society.
Ciraldo is a professor at the University of Southern Mississippi. Taratoot Ciraldo is the principal flutist of the Baton Rouge and Meridian symphonies, and she also is a founding member of the Lagniappe Trio, composed of flute, viola and harp.
While in residence at UW, Taratoot Ciraldo will teach a public master class in the flute studio and discuss her work in the nonprofit sector, while Ciraldo will serve as a guest lecturer in the UW Department of Music's audio technology class.
For more information about Duo Cintemani, visit www.ciraldomusic.com/.
For more information about the concert, call Kathy Kirkaldie, UW Fine Arts coordinator, at (307) 766-2160 or email kirisk@uwyo.edu.