Sports
Sports scandal podcast "Charges with Rex Chapman" being adapted for TV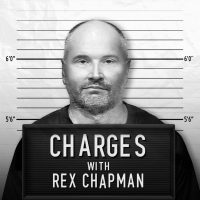 Digital content company Portal A and CTRL Media, the sports content company founded by NBA superstar Steve Nash, have announced plans to adapt their popular podcast Charges with Rex Chapman for a TV doc series.
Hosted by former NBA player Chapman — who suffered a public fall from grace due to a shoplifting conviction stemming from his gambling habit, before remaking himself as a social media influencer — the podcast covers some of the most notorious sports scandals in recent memory, featuring the athletes who were at the center of them. Previous guests of the show have included former NFL quarterback Ryan Leaf, speaking about his career flameout and subsequent battles with substance abuse; Metta Sandiford-Artest and Stephen Jackson on the 2004 "Malice at the Palace" brawl between the Detroit Pistons and Indiana Pacers; and pro skateboarder Christian Hosoi recounting his struggles with drug addiction and conviction for narcotics smuggling.
"We knew Rex had a passionate following, but we were blown away by the podcast's reception and how the honesty of his guests struck a chord with listeners," Portal A co-founder Nate Houghteling said. "While the media loves to cast athletes as either heroes or villains, Charges shows that the truth is far more complex and compelling than the headlines."
The TV version of Charges, which is currently being shopped to networks and streaming platforms, will remain anchored in the world of sports scandals, but will also broaden its scope to include notorious incidents from the worlds of entertainment and pop culture as well. Chapman will continue to front the series, while filmmaker Evan Jackson Leong — director of the award-winning feature doc Linsanity, about Jeremy Lin's spectacular 2012 season with the New York Knicks — has boarded the project as director and showrunner.
"Charges has always been a labor of love for Rex, since he knows how powerful it is to share these stories, even when it's painful," Nash said. "As a producer and his friend, I'm excited to continue the journey with him and take this project to the next level."
"Of all the projects I've been involved with, Charges has always felt special," Chapman added. "We built a platform where world-class athletes could feel comfortable reliving their lowest moments — and their stories are proof that your rock bottom doesn't define you. I know this is true because I've lived it, and I'm fired up to be bringing this show to the screen."
Chapman and CTRL Media are repped by WME, while A3 Artists Agency represents Portal A. Showrunner Leong is repped by APA.