Arts
Anna Solich wins emerging artist award
Tauranga resident Anna Solich is the winner of the 2022 The Weekend Sun Emerging Artist Award for 2022 with her work 'Come Undone'.
Created using watercolour, Indian ink and pencil, the image shows a woman's softly haunting face gazing out through the framed glass.
"The glass is intentional, so the viewer sees themselves in the reflection," says Anna. "She has hope in her eyes still. Everything is going to be alright."
Prior to judging, Anna sent the painting to her parents, who are both artists.
"I thought if I sent it to them they might worry about my mental health," says Anna. "I had painted six for the competition and I couldn't choose which one. They said: 'Choose this one'."
A quote
She says a quote with her work 'look deep into your soul and you'll find a spark' is behind the portrait.
"So if things are looking gloomy and tough you can look deep into your soul, and you can have that belief that everything's going to be alright."
The Weekend Sun and the Bay of Plenty Garden & Art Festival have partnered to create the Weekend Sun Emerging Artist Award where emerging or would-be artists get the opportunity to take their work to the next level.
The finalists attended two workshops mentored by professional artist Rob McGregor and their work was displayed at the festival hub Bloom in the Bay. Anna found the workshops to be "absolutely fantastic, absolutely brilliant".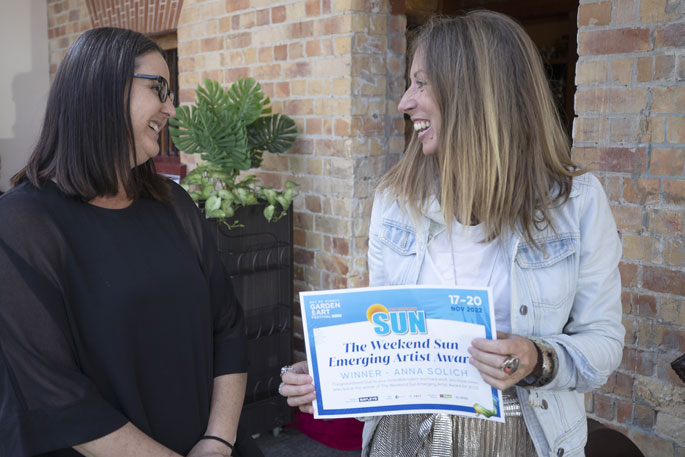 The Weekend Sun editor Merle Cave congratulating artist Anna Solich on winning The Weekend Sun Emerging Artist Award. Photo: John Borren/SunLive.
"My initial work I took to the workshops were pencil drawings. They were really tight, trying to replicate the picture precisely. Rob said that if I'm going in that direction, I'll be a portrait artist. I don't want to be a portrait artist, I want to convey feeling and emotion. He really made me stop and think about where I wanted to go and what I was trying to produce.
"It was brilliant advice because I went away and completely changed everything I'd been doing for the last few months and went on this new direction."
At first Anna felt quite out of her depth at the workshops.
"I've only been drawing for the last two years since lockdown when I had a bit of time on my hands. I'm still in shock that I've won this. It's absolutely fantastic."
Anna was announced the winner last Sunday, November 20, on the Bloom Stage and received a prize and entry into the 2024 festival as a trail artist.
Anna also paints on denim jackets that she sources at second hand and charity shops, selling them via her Instagram account.
Finalists of The Weekend Sun Emerging Artist Award for 2022 were Kris Jansen, Ashley Fish, Dianne Storey, Ana Hancock, Anna Solich, Alison Underwood, Helen Hunkin, Meg Gaddum, Rebecca Mathews, Boyd Rutherford, Angelo Nunez and Pam French.