Arts
Meijer supports Black Midwestern artists with special product line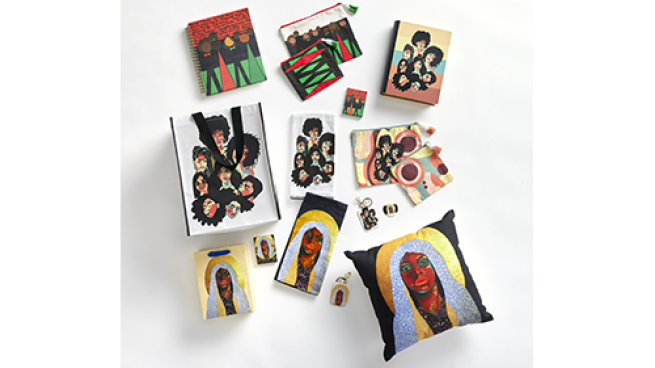 In a show of support for Black Midwestern artists, Meijer has rolled out a line of products featuring the art of Dana Powell-Smith, Melina Brann and Shaunt'e Lewis. The retailer will donate 5% of sales from the collection to Urban League affiliates in Indiana and Michigan.
The products, which include decorative pillows, stationery, gift bags, canvas tote bags, key rings, kitchen towels and throw blankets, will be available through Feb. 26 as part of Meijer's Black History Month celebration. According to the retailer, its merchants selected three art pieces from hundreds of submissions as part of an ongoing effort to support underrepresented communities and ensure every customer sees themselves reflected on its shelves.
[Read more: Meijer expands on-demand grocery delivery across Midwest with Uber]
"What I love most about the art we're highlighting is that while all three artists took inspiration from the same prompt of Black History Month, they each approached it from a totally different viewpoint with their own unique style," said Carla Hendon, director of supplier diversity and indirect procurement at Meijer. "It highlights the diversity we have within the Black community."
Indianapolis artist Shaunt'e Lewis began pursuing her art full-time in 2021 and has seen significant success in her community, painting a car live at the Indy 500 and having art featured in the New York Times.
"It means quite a bit to me to know that this early on in my career, people believe in me enough to give me the opportunity to showcase my work in a major store like Meijer and that Meijer supports artists and local communities," Lewis said. "It's important for stores like Meijer to represent Black artists and all types of artists because we don't always get to see ourselves in spaces like this."
[Read more: Meijer Grocery store concept makes its debut]
Meijer plans to unveil five local artist collections this year, with others representing art for Women's History Month, Pride Month and Hispanic Heritage Month. The Black History Month artist collection is available in stores and online.
Privately owned Meijer operates more than 400 supercenters, neighborhood markets and Express locations throughout Michigan, Ohio, Indiana, Illinois, Kentucky and Wisconsin.
This story originally appeared on Progressive Grocer.