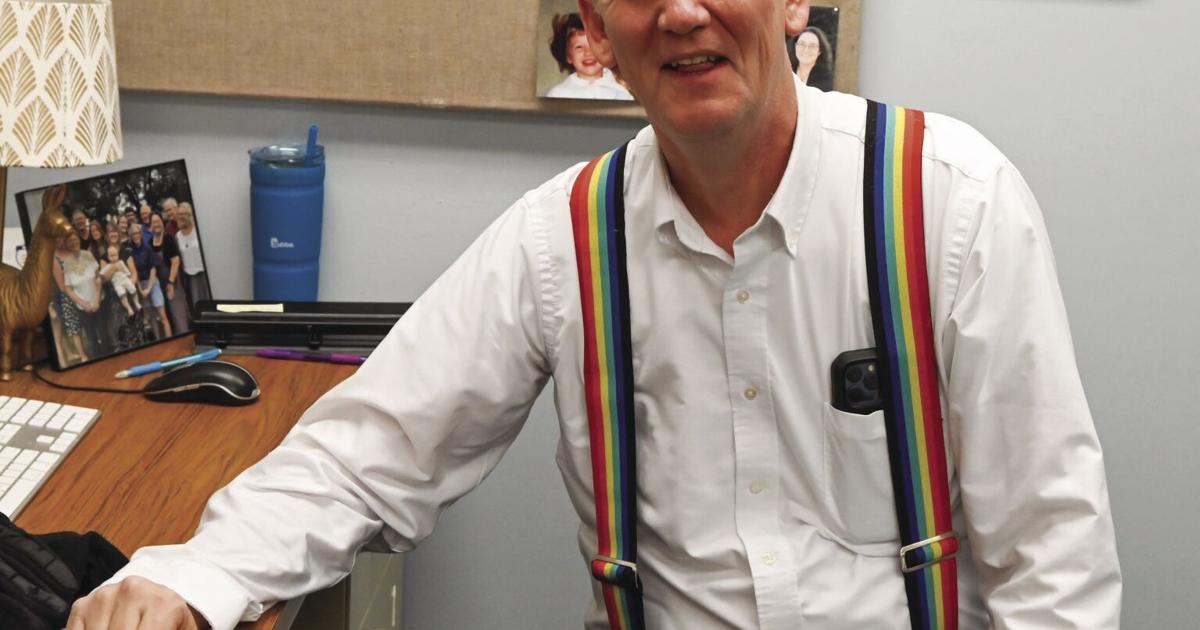 David Newman keeps two phones: One for texting, calling and the sort, and the other for sticking halfway down his throat.
With a wide-open mouth, Newman lowers a disinfected 6.24-by-3.08-inch iPhone 8 — with its video and flash on but no phone case — down far enough to illuminate his vocal folds, which are located inside the Adam's apple at the bottom of his throat. He's checking if his folds are white, he said. If pink, he might have laryngitis, which means the vocal folds are swollen and his voice sapped.
For Newman, tip-top vocal folds are crucial. The adjunct voice instructor at JMU also performs oratorio — singing onstage with music — typically in front of 500-3,000 people along the East Coast once a month for a minimum fee of $1,000 per performance.
Checking for laryngitis with his phone saves him more money than visiting a laryngologist does, Newman said, and an endoscope makes him gag. In a follow-up email to The Breeze, he said he's not trying to avoid going to the doctor by scoping himself. However, Newman said he doesn't know anyone else who checks on their vocal folds with an iPhone.
"This is a boundary that I think a lot of people have set for themselves," Newman said. "They go to a doctor, and the doctor does this and they don't think, 'Oh, someone did this by themselves, maybe I could do that.'"
Newman sometimes misses his Friday morning classes when traveling for his oratorio performances. But when he's teaching in JMU's Music Building, students paint him as a lighthearted and eccentric professor with a soft side.
"He always wears his signature rainbow suspenders, and I love him for that," Rachel Tan, a junior music performance major who's had class with Newman for three semesters, said. "What an iconic ally."
Erin Dixon ('20), a former student of Newman's and now a music teacher at Hanover High School in Richmond, Virginia, said Newman was the most caring professor she's had in the Music Building. Before teaching Dixon, Newman once stopped her in the Music Building's hallway because it looked like something bothered her. Dixon said Newman gave her a hug.
"Every major is hard, but being a music major is very hard, and he was always someone who I felt genuinely cared about how we were doing," Dixon said, "like, mentally aside from being a student, like how we were doing as people."
When Newman is in class, every day is different, Tan said. Newman, the self-proclaimed "poster child for ADHD," sometimes starts class by taking students' requests for songs to analyze their texture, rhythm, melodies and harmonies. Another time, Tan said, the students decided to sit on the floor.
For one class last year, which happened to be April Fool's Day, Tan said, only four people showed up. When Newman arrived, Tan recalled him saying, "Hmm, let's go to Dunkin' Donuts" and sending out a Canvas announcement that read, "For anyone who's coming to class late, we're at Dunkin' Donuts." The tradition halted during the pandemic, but whenever six or fewer students show up to class, Newman will take them to the Dunkin' inside the Student Success Center (SSC) for a dozen assorted donuts on his dime.
Newman's spontaneity is instilled in Dixon's teaching methods at her high school, she said, but it's hard to replicate.
"I try to always be energetic in my classroom and do similar things — keep things fun and keep things exciting — especially when dealing with high schoolers," Dixon said. "You have to keep it fun or they don't care. But he's just so special that it's something I won't really ever be able to capture."
Newman himself molds his teaching methods from the best qualities of his biggest influencers and coaches, namely Stefan Young, one of his music teachers growing up. Young, who taught aural skills, music theory and composition, often tasked Newman and his classmates with a "ridiculously hard thing," Newman said, but kept a smile on his face as he simply asked students to try their best.
Next up, Newman's work to support choirs during the peak of COVID-19 will be featured in the documentary "The Drive to Sing" at a showing in Hartman Hall on Feb. 25.
Newman doesn't expect his students to fit a phone in their mouths, or to be a music-hearing "whiz," as Dixon described him. Newman said he doesn't look too closely at teaching evaluations because he's learned he's at his best in the classroom when he stays true to himself.
"We sure don't get paid well enough not to have fun," Newman said. "So, I hope that we don't just approach it as some task that we have to do, but that we remember we do music for a reason, and to find wonder in that — to find the joy in that."